A selection of our latest additions to our LED lighting range!
New products featured from Domus, Cosmo & Collingwood. These LED lights include the latest technology in energy efficient lighting, with a much longer lifespan than other lighting sources. If you have any questions, require pricing or specifications please don't hesitate to contact us via the details at the bottom of this newsletter.
| DOMUS DEKA |
The DEKA inground luminaire provides a practical solution for inground lighting. It is made from the highest quality 6063 grade aluminium, natural anodised trim cover, black anodised body, 316 stainless steel fixings, in white or warm white LED, clear glass lens. 2000kgs drive over, polycarbonate housing. IP67 rated. Patterned with single, dual, triple and quadruple openings. The DEKA will look appealing in any application from landscape, buildings, courtyards to sculptures.

---
| DOMUS PANDORA |
The PANDORA is a contemporary luminaire. Great for use over kitchen benches. With its polished chrome trim and satin white, natural anodised or matt black aluminium shade this pendant is a feature in any application. The PANDORA shade is made from high quality aluminium, polished chrome highlights, clear wire suspension, surface mounted canopy, integral constant current power supply, 100-240V AC, Osram 7 x 1W LED 3030 chips, cool white 4000-4500K, 500lm total light output or warm white 3000-3200K , 500lm total light output, 80° beam angle, non dimmable.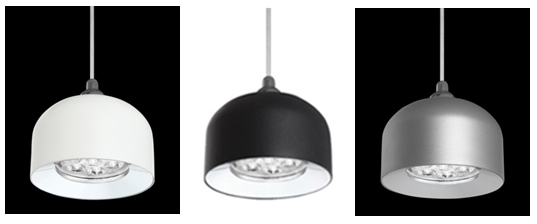 ---
| COSMO | SURFACE MOUNT DOWN LIGHT
These LED round fixed surface mount downlights can be used in both residential and commercial applications. With an aluminium body, white trim, integral LED driver and wide beam. Non dimming with lamp temperatures of 3000K/4000K, 1200/1800/2400 lumens, with an IP20 rating. Available in 3 Sizes. Width: 80mm, 110mm, 140mm, Height: 80mm.

---